Agriculture Week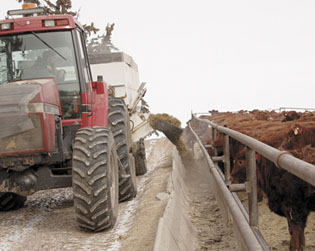 Kevin Ganser begins the daily feeding of 1,000 head of cattle 14 km southeast of Provost with a mixture of chopped barley, ground straw and barley silage with a pail of minerals added in. This 205 horsepowered tractor was pulling an automated feed wagon that augered the mixture into one of several long feeding troughs. Every two to three days straw bedding is put out for the Red and Black Angus cattle to use. Ganser told The News that during the three to four hour feeding chores he keeps an eye out for the health of the cattle—adding that they eat more when it is cold. It was -19 degrees C. with a breeze blowing so the animals quickly lined up when they saw the feed arriving. Some of the other chores at ranching operations like this one include machinery maintenance. After winter the animals are put out on pasture grass so the farmers can then concentrate on other work like seeding, weed control and harvest operations. Agriculture Week is now being observed with a theme this year of safety (see special stories pages 18-40 in the print edition). ©Provost News Photo.

See inside the print edition of The Provost News, March 15.
Want to Subscribe to The Provost News? Click here.
More pictures, stories can be found in the print edition of The Provost News, March 15, 2017 including:
• RCMP Investigate Post Office Break-ins
• Hughenden Jets Hockey Club Advance to Finals
• Community Raises Over $19,000 in Remembrance of 5 Amisk Residents
• Employment/Careers
• Several Maintenance and Facility Upgrades Planned in Provost

• $25,000 Granted to Rosenheim Historical Society
• Ernie Lewis Memorial Endowment Fund Continues to Grow, Serve Local Athletes

Get details of these and other stories by subscribing to The Provost News Click here or call 1-780-753-2564.