Making a Save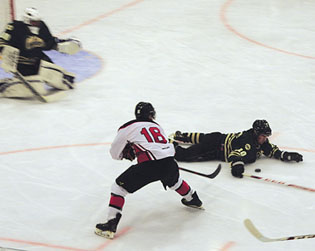 The Provost Combines' hockey player No. 10 Travis Fraser uses a whole body defensive tactic as he slides along the ice blocking the puck from going near his goalie on Friday evening, February 24. The Combines lost this game 3-2 playing against the Consort Comets. ©Provost News Photo.

See inside the print edition of The Provost News, March 1.
Want to Subscribe to The Provost News? Click here.
More pictures, stories can be found in the print edition of The Provost News, March 1, 2017 including:
• Provost Combines Senior Hockey Team Taken Out of Playoffs by Consort Comets
• Work Underway at Daycare Building
• Scouts Enjoy Dilberry Lake Trip
• Employment/Careers
• Full House at Fireman's Ball

• Some Local Populations Up, Others Down Compared to Previous Census
• Early Relationships Are Critical for Child Development—Speaker

Get details of these and other stories by subscribing to The Provost News Click here or call 1-780-753-2564.