Heavy Metal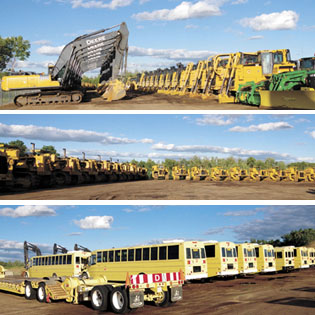 The top two photos show just a portion of some of the heavy equipment that will be used by hundreds of workers when Enbridge Inc.'s $7.5 billion Line 3 pipeline replacement construction project is underway in the area this summer. The OJ Pipelines Canada equipment—in a compound near Hardisty, is being overseen by David Murch (vice president – bidding and estimating) who among others, took in a construction open house held in the Alberta Room of the Provost Recreation and Culture Centre on Wednesday, June 21. OJ Pipelines is contracted for the spread from Hardisty to Luseland (which includes Outlook) while there is another primary contractor to work on the Line 3 project. Bottom photo shows busses that will take people from Provost to the construction site. ©Provost News Photos.

More photos in the June 28, 2017 print edition of The Provost News.
Want to Subscribe to The Provost News? Click here.
More pictures, stories can be found in the print edition of The Provost News, June 28, 2017 including:
• Over 700 Pipeline Workers to be Based in Provost Until Christmas
• Why Canada is the Best Country in the World
• Piranhas Host Swim Meet
• Lucie Trutnau on Canada's 100th and 150th.
• Employment/Careers

• Bow River Energy Ltd. Closes Transformational Medium Oil and Midstream Acquisition Near Provost

Get details of these and other stories by subscribing to The Provost News Click here or call 1-780-753-2564.