I Can Do This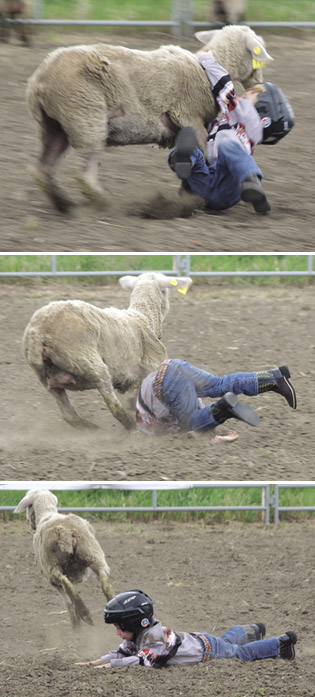 Three year old Ryder Trenerry skids along the dirt (top) while clinging to a sheep at the Cadogan rodeo on Saturday, June 10. Photo middle shows more of the action—while bottom image shows the end result. ©Provost News Photos.

More photos in the June 14, 2017 print edition of The Provost News.
Want to Subscribe to The Provost News? Click here.
More pictures, stories can be found in the print edition of The Provost News, June 14 , 2017 including:
• St. Thomas Aquinas School Principal Gears Up for Retirement (working in the salt mines at midnight wasn't for me)
• Youth Artwork Showcased
• 1700 Red and White Flowers Planted
• Moth, Washer Fluid Appear Compatible
• Employment/Careers

• My MP Had to Endure an Earful From Me—Comment

Get details of these and other stories by subscribing to The Provost News Click here or call 1-780-753-2564.