The Nation Celebrates 150!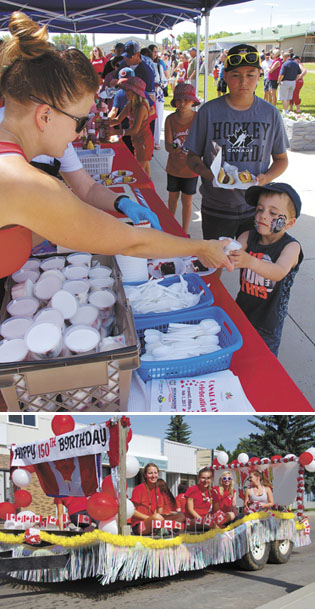 People across Canada marked the nation's 150th anniversary on Saturday, July 1. Locally the parade was led by an RCMP Mountie while fireworks were enjoyed late at night. Top; a free lunch was provided, while bottom a Town of Provost float heads down Main Street. More pictures in the print edition. ©Provost News Photos.

More photos in the July 5, 2017 print edition of The Provost News.
Want to Subscribe to The Provost News? Click here.
More pictures, stories can be found in the print edition of The Provost News, July 5, 2017 including:
• Hughenden Public School Honors 20 Students at Graduation Ceremonies
• White Banded Birds Spotted in Town
• Three Large Wind Turbine Projects Proposed for Oyen Area.
• Lucie Trutnau Marvels at Touring Show Homes Years Ago
• Employment/Careers

• Provost Panther Football Team Presents Awards at Season Windup

Get details of these and other stories by subscribing to The Provost News Click here or call 1-780-753-2564.