"Frightening" Storm Wrecks Grain Bins,
Blows in Overhead Garage Door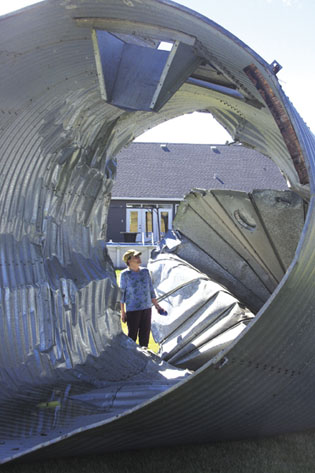 . . . I'm sure if I had been in the yard
it would have lifted me off and
carried me some place—Lynda Berry
Lynda Berry inspects some of the damage to one of the grain bins inflicted by a powerful storm on Sunday evening, July 23. More photos in the print edition. ©Provost News Photo.

More photos in the July 26, 2017 print edition of The Provost News.
Want to Subscribe to The Provost News? Click here.
More pictures, stories can be found in the print edition of The Provost News, July 26, 2017 including:
• Provost RCMP Busy With Trafficking, Mischief, Arson, Assault and Theft Complaints
• Pee Wee Provost Girls Ball Players Take Provincial Bronze.
• M.D. Contributes to Local Groups
• Provincial Final Baseball Games Hosted in Provost; High Prairie Royals Win Championship
• Employment/Careers

• Town to Replace Water Reservoir; Fire Dept. to Get New Generator

Get details of these and other stories by subscribing to The Provost News Click here or call 1-780-753-2564.