New Year's Baby Contest Winner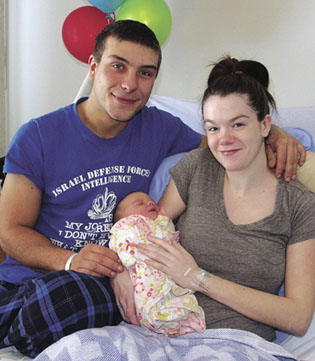 The New Year's baby contest winner was Emiley Lynn Fayant born on Sunday, January 1 at 4:33 p.m., shown here with her parents Trevor Fayant and Rachelle Botting. Emiley Lynn Fayant weighed in at 7 pounds, 11.5 ounces and measured 21 inches long. She is the first child for the couple who live in Provost. ©Provost News Photo.

See inside the print edition of The Provost News, January 4.
Want to Subscribe to The Provost News? Click here.
More pictures, stories can be found in the print edition of The Provost News, January 4, 2017 including:
• Summary of Births, Deaths and Marriages
• Letter Writer tells of Kindness in Hughenden.
• Herman Schwenk States That C02 is Not Pollution
• Employment/Careers
• Looking Back 50 Years With Photos, Story: Centennial Celebrations Here Are Kicked Off with Bonfire, Hockey Game and Pageant

• Queen of Canada Sends Message
• New Alberta Royalty System Ready

Get details of these and other stories by subscribing to The Provost News Click here or call 1-780-753-2564.