Like Silent Ghosts From the Great White North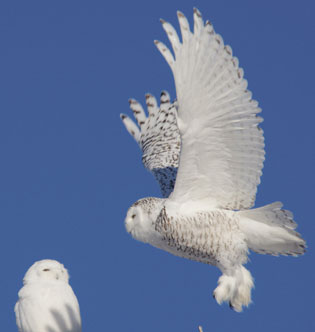 Snowy owls are back in this area from Canada's harsh north where they had been hunting for food far above the Arctic Circle during 24 hour daylight. The birds including this male (bottom left) perched on a utility pole near town watches as its female mate lifts off—displaying its dense feathering on her legs. These largest (by weight) owls in North America usually feed on small mammals but will also use its sharp talons to go after prey as large as geese. The birds—with cat-like yellow eyes—will return to the great white north to hunt lemmings, ptarmigan and other small animals like jackrabbits or hares when more daylight returns. ©Provost News Photo.

See inside the print edition of The Provost News, January 25.
Want to Subscribe to The Provost News? Click here.
More pictures, stories can be found in the print edition of The Provost News, Jan. 25, 2017 including:
• Fewer Babies Born Here Than Previous Year
• New Power Line Being Planned to Upgrade System in Provost - Hayter Area
• Fractal Systems Announces Organizational Changes
• Employment/Careers
• Babies of 2016 Are Featured Over Three Pages

• More NDP Deception, Says Columnist
• Provost RCMP Warn About Phone Scam

Get details of these and other stories by subscribing to The Provost News Click here or call 1-780-753-2564.