Seeing What Just Isn't There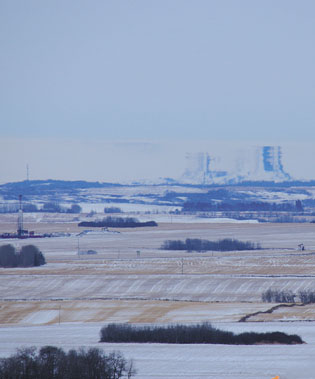 A series of gigantic mirages spotted to the west and NW of Provost were spotted by © The Provost News cameraman recently and recorded on the front page. This shows only one of 11 photos of the strange phenomenon which appears rarely and for only a short while. This photo shows two large and ghostly-looking towers that appeared on the horizon, only to vanish later.
The strange phenomenon known as a 'Fata Morgana' has recently reappeared to the southwest of Provost and west, which has been seen before by the photographer and others—but this time on December 29 (2016) fantastic towering images were also observed to the northwest and north-northwest (almost north of a high hill just northeast of town a few miles). These images show tall cliffs—that aren't really there—stretching skyward, all taken within less than 20 minutes of each other when the ground air temperature was -7 degrees Celsius. Similar images were also spotted on Saturday morning, January 14 (2017) though not as many as shown on the front page dated Jan. 18, 2017.
Mirages occur when light rays are refracted and curved by passage between air layers of different density and temperature. This is believed to be an extreme and complicated variant of a superior mirage and called a 'Fata Morgana.' The Morgana needs a temperature inversion, warmer air above cooler, with temperature gradients in parts increasing strongly with height. Then, several rays from a relatively low lying object or even the ground are all curved towards the eye giving the impression that the object is smeared upwards into a cliff. In reality the Morgana is more complicated with parts inverted and stepped. The temperature inversions making them are not simple and may also have waves that cause different mirage sections to vary in height. Although the Morgana might be seen anywhere it mostly occurs during very cold weather or in Arctic regions where heavy frigid air overlays the ground. These series of images show a mirage of the shallow distant hills above the real object taking the form of towering cliffs. Changes to the phenomenon can take place quickly. The Provost News has photographed similar images: on November 29, 2015, January 11, 2013, January 29, 2012, January 2005, December 26, 2006 and on Boxing Day 2010. (For those who want a more detailed scientific image and see an earlier Provost mirage photo on a United Kingdom site they can look at: www.atoptics.co.uk/fz139.htm) ©Provost News Photos.

See inside the print edition of The Provost News, January 18.
Want to Subscribe to The Provost News? Click here.
More pictures, stories can be found in the print edition of The Provost News, January 18, 2017 including:
• Lucie Looks Back in Time at Community Life
• Over Century Old, Hughenden Barn Restored
• Herman Schwenk Talks About Smoke and Mirrors
• Employment/Careers
• Provost bowlers Barry Klein and Caroline Doetzel win first place in the Club 55 Hi-Low championships in Edmonton on January 15.

• PPS Girls' Volleyball Team Earns Sportsmanship Banner
—Awarded by Alberta Schools' Athletic Association
• Altura Energy to Drill on Nearby Alberta/Sask. Border

Get details of these and other stories by subscribing to The Provost News Click here or call 1-780-753-2564.