Winter on the Land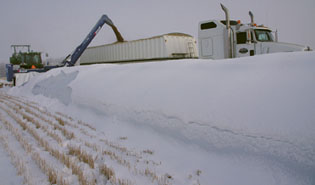 At first glance this mound looks like a snowbank, but of course it was a long, giant plastic bag that was full of wheat. The grain had been stored here since the fall harvest and was being tapped into using an auger on Friday morning, January 6 northeast of Provost with Matt Nyberg at the controls of the tractor. He then took a full load of the grain in Gary Cromarty's truck to Richardson Pioneer for shipping to market. ©Provost News Photo.

See inside the print edition of The Provost News, January 11.
Want to Subscribe to The Provost News? Click here.
More pictures, stories can be found in the print edition of The Provost News, January 11, 2017 including:
• Provost Man Marks 100 Years at Birthday Celebration
• Vehicle Thefts Down—Break and Enter, Fraud Up, Provost RCMP Figures Show
• Herman Schwenk Examines Drug Catastrophe
• Employment/Careers
• Alberta Off-Highway Vehicle Group Concerned Open Landscape in Jeopardy

• RCMP Find Stolen Truck, Trailer and Golf Cart
• Provost Police Lay Some Charges During Impaired Driving Initiative

Get details of these and other stories by subscribing to The Provost News Click here or call 1-780-753-2564.