Look of Approval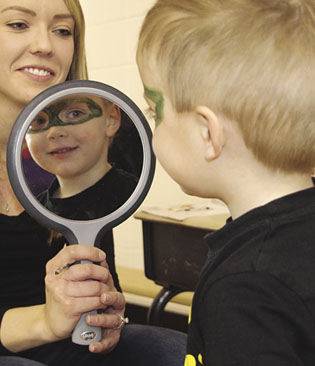 St. Thomas Aquinas Grade 2 teacher Brittaney Olson (left) holds up a mirror to Kiptyn Ganser's face at the STA bazaar on February 3 and a smile is reflected back. ©Provost News Photo.

See inside the print edition of The Provost News, February 8.
Want to Subscribe to The Provost News? Click here.
More pictures, stories can be found in the print edition of The Provost News, Feb. 8, 2017 including:
• Buffalo Trail Public Schools to Pay Extra $100,000 For Natural Gas and $10,000 For Vehicle Fuel in 2017-18 Carbon Taxes
• Provost RCMP Look Into Theft, Impaired Charge
• New Walking Trail, Dog Park, Community Garden to be Considered
• Employment/Careers
• Physician Urges Early Screening to Detect Cancer

• Fish and Game Has Awards, Supper
• MP Against Carbon Tax Implementation

Get details of these and other stories by subscribing to The Provost News Click here or call 1-780-753-2564.