Precision Work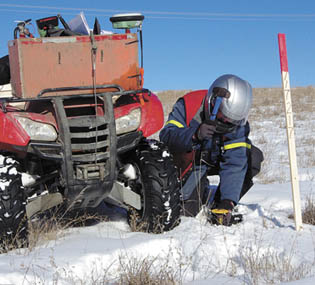 There appears to be growing activity in the local oilpatch with more surveying of lands taking place. Here surveyor Terrace Sutherland was seen making his mark on farmland northeast of Provost recently. He said that a crew of 10 people working nearby was wrapping up the project after approximately a week and a half. After that Sutherland was headed to the Metiskow area for more surveying. Next on the marked sites, seismic workers were to appear, putting their expertise to work. Following that detailed information will be studied carefully by an oilfield company before a final decision is made to drill for oil in this or other nearby locations. ©Provost News Photo.

See inside the print edition of The Provost News, February 22.
Want to Subscribe to The Provost News? Click here.
More pictures, stories can be found in the print edition of The Provost News, Feb. 22, 2017 including:
• Hughenden Jets First in East Central Senior Hockey League
• M.D. 52 OKs West Fire and Rescue Budget
• Carbon Tax Impact More Pronounced in Rural Areas—Superintendent
• Employment/Careers
• No Lots Sold by Town of Provost During 2016; Building Permits Down

• Men's Basketball Tournament Held Over Weekend
• Augering the Ice at Dilberry Lake

Get details of these and other stories by subscribing to The Provost News Click here or call 1-780-753-2564.