Land of Fire and Ice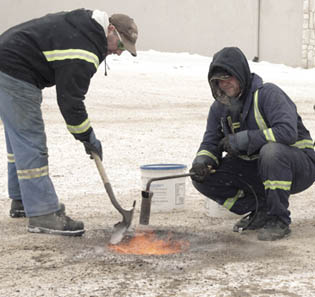 Town worker Kevin Bertram (right) appears to be in favor of local warming as he torches an ice buildup in a pothole while Jerrold Fleck uses a shovel to clear the area. The work was done before the hole could be filled on a Main Street intersection in Provost on February 9. ©Provost News Photo.

See inside the print edition of The Provost News, February 15.
Want to Subscribe to The Provost News? Click here.
More pictures, stories can be found in the print edition of The Provost News, Feb. 15, 2017 including:
• Cadogan's Irene Scammell Surprised With Provincial Honour
• Value and Number of Building Permits in M.D. 52 Climbs
• 'Dryhole Hunter' Worked on Oil Rig at Provost Just Before Famous Leduc Find
• Employment/Careers
• Information and Truth Need to Line Up

• Provost Bowlers Win Zones, to Compete at Provincial Finals
• Lucie Trutnau Looks at Family Wedding Plans

Get details of these and other stories by subscribing to The Provost News Click here or call 1-780-753-2564.