Moving Out of Legion Hall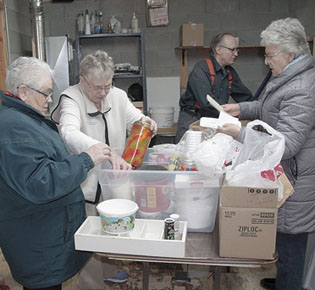 Members of the Border Dance Club (from left) Gloria Nelson, Lois Johnson, Robert Gratton and Sonia Trenerry sort through items in a back room at the Legion Hall on Monday morning, January 30. The items will be sorted in someone's home while the club looks for a different place to meet. Story in the print edition. ©Provost News Photo.

See inside the print edition of The Provost News,February 1.
Want to Subscribe to The Provost News? Click here.
More pictures, stories can be found in the print edition of The Provost News, Feb. 1, 2017 including:
• Town Sells Legion Hall for $1 to Daycare Society
• Over 800 Extra Wells Forecast to be Drilled in Alberta
• Risk of Grasshoppers Here Low This Year, But . . .
• Employment/Careers
• Hardisty Mayor Optimistic for Keystone XL: Interview

• Zero Losses All Season For Hughenden Jets Sr. Hockey Club
• A Levy is Tax, Says MLA Wes Taylor

Get details of these and other stories by subscribing to The Provost News Click here or call 1-780-753-2564.