Blades Initiation Team Hosts Tournament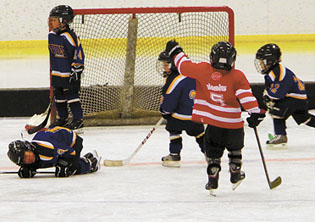 The local Blades Initiation team (5-6 year olds) hosted an invitational hockey tournament in Provost on Saturday December 2. This picture shows a visiting Wainwright team on the attack as a boy stands in the net for Provost. Also taking part in the action was another Wainwright team, one from Lloydminster and Macklin as well as Chauvin/Edgerton. Part of the ice was blocked off so the playing surface was smaller than normal for this tournament. ©Provost News Photo.

More photos in the December 6, 2017 print edition of The Provost News.
Want to Subscribe to The Provost News? Click here.
More pictures, stories can be found in the print edition of The Provost News, December 6, 2017 including:
• Calf Prices 'Significantly Higher' Than a Year Ago

• Czar's Population Up; Has 110 Males, 90 Females
• Hockey Teams Tied in First Place

• Christmas Lights Glowing
• New CT Scanner to Serve Patients in Lloydminster Area
• Employment/Careers

• Provost RCMP Look into Damaged Transformer

Get details of these and other stories by subscribing to The Provost News Click here or call 1-780-753-2564.