Merry Christmas!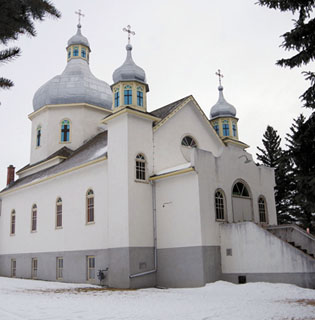 And suddenly there appeared with the angel a multitude of the heavenly host praising God and saying, "Glory to God in the highest, And on earth peace among men with whom He is pleased."—The Bible.
Descent of the Holy Spirit Ukrainian Catholic Church.
Built at Holden, Alta. in 1944. ©Provost News Photo.
More photos in the December 20, 2017 print edition of The Provost News.
Want to Subscribe to The Provost News? Click here.
More pictures, stories can be found in the print edition of The Provost News, December 20, 2017 including:
• RCMP Seek Suspects Following Thefts at Oilfield Sites

• Summary of Events From The Provost News Presented for 87th Consecutive Year
• Hughenden Jets and Irma Aces Still Tied in Sr. Hockey Play

• St. Norbert's Church Basement Project Completed by Volunteers
• Editor's 2017 Christmas Wish List
• Employment/Careers

• Surge Drills Two Successful Step Out Sparky Wells at Provost

Get details of these and other stories by subscribing to The Provost News Click here or call 1-780-753-2564.