Warming Up the Crowd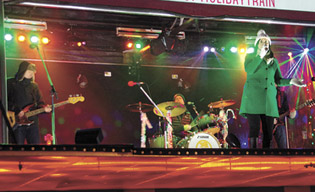 Entertainers including singer and song writer Emma-Lee with a live band behind her bring warmth and light to town as the CP Holiday Train stops at Provost on Tuesday, December 5. Bonfires were also keeping spirits and hands warm near some of the 16 railway cars lit up by CP Rail during its annual run across Canada and the U.S. to help raise money for food banks. This is the second time the train was here. Story, more pictures in the print edition. ©Provost News Photo.

More photos in the December 13, 2017 print edition of The Provost News.
Want to Subscribe to The Provost News? Click here.
More pictures, stories can be found in the print edition of The Provost News, December 13, 2017 including:
• Gibson to Spend More at Hardisty Oil Facility

• CP Holiday Train Stops to Support Food Bank
• Hockey Teams Still Tied in First Place

• Santa Hears from Boys and Girls
• Equipment Donated for Fire Training Facility
• Employment/Careers

• Provost RCMP Arrest Man

Get details of these and other stories by subscribing to The Provost News Click here or call 1-780-753-2564.