Nearly Touching His Target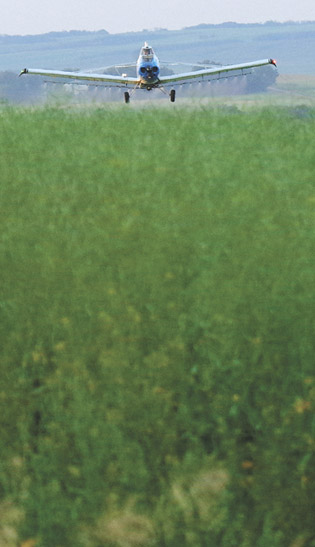 This crop spraying plane called the Blue Flame which was being operated by pilot Albert Bueckert appeared northeast of Provost in a green canola crop at 8:45 p.m. on August 2 after lifting off from the airport four miles away. The plane—seen here at a very low altitude skims over the crop as it sprays out an insecticide called Silencer, designed to kill diamondback worms before they continue chewing into the plants and farmer's profits and later transforming into diamondback gypsy moths. Two other planes from Three Hills, Alberta had also been flying in the area at this time. Bueckert continued spraying until approximately 9:40 p.m. when the light was fading. ©Provost News Photo.

More photos in the August 9, 2017 print edition of The Provost News.
Want to Subscribe to The Provost News? Click here.
More pictures, stories can be found in the print edition of The Provost News, August 9, 2017 including:
• Enbridge Line 3 Pipeline Construction Launched
• Black Pavement Gets White Parking Guides
• Provost Piranhas Compete in Camrose Swim Meet
• Lucie Trutnau in Her Mother's Kitchen
• Employment/Careers

• Carbon Tax "Harming Border Fuel Retailers" Like Provost Says MLA

Get details of these and other stories by subscribing to The Provost News Click here or call 1-780-753-2564.