Ahhhh . . .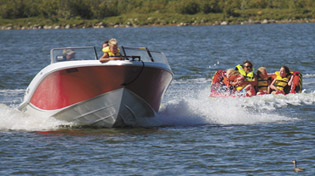 Five people being pulled by this boat enjoy a sunny summer day at Shorncliffe Lake just west of Czar. Assuming that some of the people out on the water on Friday afternoon, August 25 are students, this wet but leisurely afternoon could be one of the last ones for them before the school doors open in this area on September 5. Cabins and camping along with recreational help make this lake an attractive resort during the spring, summer and part of fall.
©Provost News Photo.

More photos in the August 30, 2017 print edition of The Provost News.
Want to Subscribe to The Provost News? Click here.
More pictures, stories can be found in the print edition of The Provost News, August 30, 2017 including:
• Town Council Has August Meeting
• Teachers Hired For New Term
• RCMP Investigate Theft at Cemetery
• 5 Combines Means Fast Harvesting
• No Tickets Issued by Police for Young Drivers
• Back to School With Ex-teacher Lucie Trutnau
• Employment/Careers

• RCMP to Watch for Impaired Driving, Fatigue

Get details of these and other stories by subscribing to The Provost News Click here or call 1-780-753-2564.