Checking Nests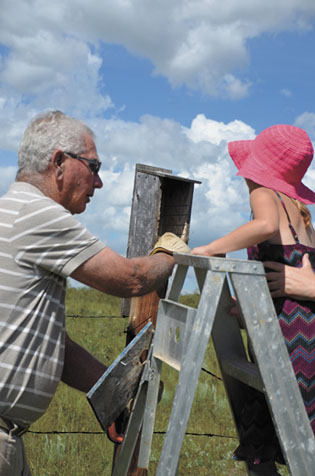 Checking one of his many bluebird nests, Bill Ruttan (left) of Provost also shows Brynn Deeks of Lloydminster what's inside. The girl is Deb Martin's granddaughter. Story in the print edition.

More photos in the August 2, 2017 print edition of The Provost News.
Want to Subscribe to The Provost News? Click here.
More pictures, stories can be found in the print edition of The Provost News, August 2, 2017 including:
• More Drilling for Alberta and Sask. Says Association
• Cool Cars Make Pit Stop Here
• The fate of world bee populations continues to be a concern, says columnist.
• Stainsleigh 4-H Club Helps Clean Up Museum Yard
• Employment/Careers

• Century Farm and Ranch Awards Include Czar and Cadogan Families

Get details of these and other stories by subscribing to The Provost News Click here or call 1-780-753-2564.