Working on Enbridge's Line 3
in the M.D. of Provost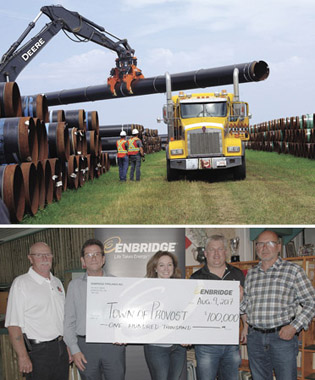 In a stockpiling yard (top photo), pipe gets loaded onto a truck as two workers look on. Approximately 40 to 50 kilometres of pipe was laying in the yard when this photo was taken on August 10, 2017. Bottom photo shows Enbridge Pipelines Inc. demonstrating its generosity to the Town of Provost with a donation of $100,000 at a gathering in the Provost and District Museum on Wednesday afternoon, August 9. Mayor Ken Knox (left) is shown along with Enbridge representatives Guy Krepps of Edmonton, Joanne Bradbury of Calgary, Tyler Lyne of Edmonton and Al Sawatzky of Plenty, Sask. Story in this paper. ©Provost News Photos.

More photos in the August 16, 2017 print edition of The Provost News.
Want to Subscribe to The Provost News? Click here.
More pictures, stories can be found in the print edition of The Provost News, August 16, 2017 including:
• Politicians, Others Tour Enbridge's "Critical" Line 3 Construction Site
• Provost Pilots Bantam AA boys baseball team are Alberta champions, advance to Kamloops for Western Canadian Championships August 18-20.
• Village of Hughenden Celebrates 100 Years
• $100,000 Donation from Enbridge Will be Used for New Campground, Playground and More
• Provost Man Faces Two Years Prison After Cocaine Charge
• Town to Save Electricity With 357 New FortisAlberta Lights
• Employment/Careers

• Premier Praises Enbridge's Pipeline Project at Site: "Projects Like this Benefit the Whole Country"

Get details of these and other stories by subscribing to The Provost News Click here or call 1-780-753-2564.