Dancing the Night Away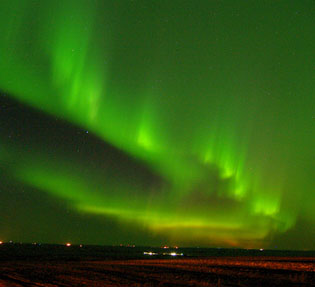 A light show to rival many across the nordic countries was visible from this area for at least two hours on Friday night, April 21. The Northern Lights or Aurora borealis light up the sky in this photo with some of the light dancing across the heavens—while Gillespie Lake (not shown in this image), a few miles northeast of Provost reflects some of the green light. The Northern Lights are the result of collisions between gaseous particles in the Earth's atmosphere with charged particles released from the Sun's atmosphere. Variations in colour (which included red that evening) are due to the type of gas particles that are colliding. The most common auroral colour, a pale yellowish-green, is produced by oxygen molecules located about 60 miles above the Earth. Rare, all-red auroras are produced by high-altitude oxygen at heights up to 200 miles. Nitrogen produces blue or purplish-red aurora. Yukon, Nunavut, the Northwest Territories and Alaska are a few places people from as far away as Asia travel to witness such unusual sights as this one. The technical details: shutter speed 30 seconds; F-stop 4.5; ISO 800. ©Provost News Photo.

See inside the print edition of The Provost News, April 26.
Want to Subscribe to The Provost News? Click here.
More pictures, stories can be found in the print edition of The Provost News, April 26, 2017 including:
• Sports Teams Get Ready for Spring and Summer Action
• M.D. 52 Accepts Tenders at Meetings
• Surge Energy Inc. Spending $37 Million on Sparky Area Purchase
• Provost Bowling League and Tournament Champions Announced
• Employment/Careers

• Church Collects Baby Clothes
• Canadian Crude Supply Growth Highlights Need for New Pipeline Capacity— Report

Get details of these and other stories by subscribing to The Provost News Click here or call 1-780-753-2564.