It's Limbo Time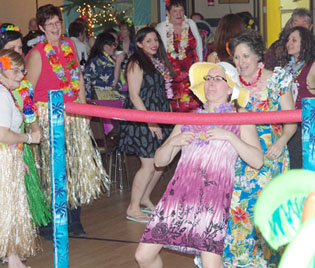 This woman takes a turn moving under a pool noodle to do the limbo to music at Cadogan's annual 'ladies night luau' where many women dressed up in a Hawaiian theme. Comedian Laurie Ferguson-Ford performed for the crowd before a dance began at Cadogan Hall. Joan Fossen told The Provost News the event raises money this year going towards finishing off additions to Cadogan Hall and to purchase a defibrillator for the building. The night included supper, door prizes, silent auction, a 50/50 draw and diamond prizes. ©Provost News Photos.

See inside the print edition of The Provost News, April 12.
Want to Subscribe to The Provost News? Click here.
More pictures, stories can be found in the print edition of The Provost News, April 12, 2017 including:
• Many Farmers to Plant Canola and Wheat—Local Survey
• Former Amisk Resident, Teammates to be Inducted Into Alberta Sports Hall of Fame
• Music Festival Presents Awards, Scholarships
• Employment/Careers
• Columnist Says: Resolve the Climate Change Issue in Court

• The Bakers Would add a 13th Bun to Show their Good Intentions—Lucie Trutnau
• Vimy Ridge Will Forever live in Canada's Collective Memory

Get details of these and other stories by subscribing to The Provost News Click here or call 1-780-753-2564.