Football Action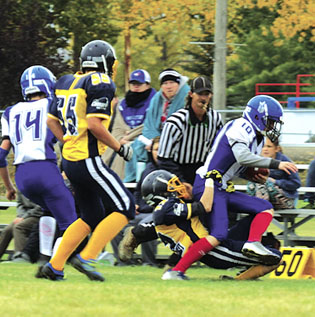 A Provost Panthers football player tumbles as he attempts to tackle ball carrier No. 10 Quinten Twomey of Our Lady of Mount Pleasant Royals (Camrose) at a game held in Provost on September 23. After giving up two touchdowns to Camrose, Provost Panthers No. 96 Miles Hager scored their first touchdown. By the end of the first half the score was 32-19 for the Royals. During the second half, the Panthers maintained a strong defense while offense continued to raise points. The third quarter ended with a difference of seven points between Royals and Panthers with Camrose winning the game. ©Provost News Photo.

See inside the print edition of The Provost News, September 28.
Want to Subscribe to The Provost News? Click here.
More pictures, stories can be found in the print edition of The Provost News, September 28, 2016 including:
• Town Wants Provincial Cash for Lagoon, Water Reservoir Upgrades
• Employment/Careers
• Variety of Business for M.D. 52 Councillors at Meetings
• Repsol's Chauvin Operation Spends Over $21 Million on Area Suppliers
• Provost Letter Writer Wants Independence for Western Canada
• MP Presents Oil and Gas Petition to House of Commons
• Altario School Awarded a 'Happy Birthday Canada' 150th Celebration Garden; 1,000 Tulips to Be Planted

Get details of these and other stories by subscribing to The Provost News Click here or call 1-780-753-2564.