New Addition to Cadogan Hall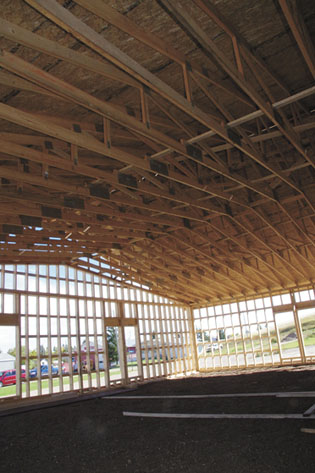 This picture shows the view from the inside of a new addition that has been connected to the east side of the Cadogan Hall. ©Provost News Photos.

See inside the print edition of The Provost News, September 21.
Want to Subscribe to The Provost News? Click here.
More pictures, stories can be found in the print edition of The Provost News, September 21, 2016 including:
• 1800 Sq. Ft. Cadogan Hall Addition Costing $250,000
• Employment/Careers
• MD Eyes Potential Change of Energy Firms' Ability to Pay Taxes
• Last Cannon Leaves Legion Hall for Museum
• Children's Theatre Teaches Drama to STA School Students, Performs in Provost
• It was canasta time again at the Cadogan Hall with over a dozen women taking part on September 14. A photo in the print editions showed: Ann Hagen, Joyce Trenerry, Gloria Nelson, Deb Nelson, Hertha Broschak, Lynanne Thunberg and Linda Broemeling. At another table were Irene Scammell, Yvonne Pickard, Beryl Goodman, Dawn Paulgaard, Doreen Sieben and Florence Fossen.
• Dr. Folkins Community School students at Chauvin took to the streets participating in a Terry Fox run on Friday, September 16.

Get details of these and other stories by subscribing to The Provost News Click here or call 1-780-753-2564.