Sanding, Painting and Tidying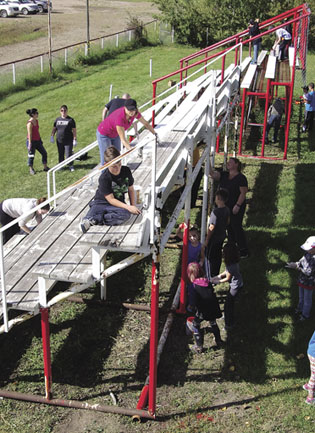 The Provost Pythons Grade 6 to 8 bantam football team, along with some siblings and parents, work to spruce up the Provost sportsgrounds on Saturday, September 10. Coach Mike Gabruck told The Provost News that "If we painted (the stands) and cleaned the grounds, they'd (Provost Kinsmen) donate $6,000." The stands are used for the annual Kinsmen Splash and Smash. ©Provost News Photo.

See inside the print edition of The Provost News, September 14.
Want to Subscribe to The Provost News? Click here.
More pictures, stories can be found in the print edition of The Provost News, September 14, 2016 including:
• Bumper Crop Emerging from Farmers' Fields
• Employment/Careers
• Agrium, PotashCorp Announce Massive Merger
• MD Unhappy With Proposed Provincial Centralization of Industrial Property Assessment
— Reeve Calls Plan 'Fatally and Fundamentally Flawed' From Practical and Philosophical Standpoints
• RV Rally Brings 104 Rigs, 208 People to Provost
• $4,500 of Hockey Equipment Donated to Provost Minor Hockey by Calgary Flames hockey player, former Provost resident Lance Bouma.
• Tuscany Energy's Macklin, Evesham Properties to be Sold

Get details of these and other stories by subscribing to The Provost News Click here or call 1-780-753-2564.