Aiming for Accuracy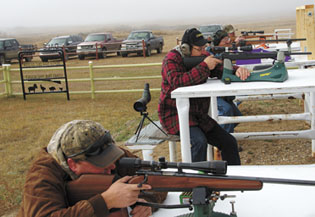 A slight breeze and a bit of fog in the air added to the challenge for these and other target shooters who took in the grand opening of the Provost and District Fish and Game Association's new rifle and handgun range north of Provost on Sunday afternoon, October 23. From left: Oscar Long, Dale Rushinko, Ross McGregor and Dave Schmidt. These men were looking through their sights at a target 100 yards away on a quarter section of land that the group recently purchased. More photos in the print edition. ©Provost News Photo.

See inside the print edition of The Provost News, October 26.
Want to Subscribe to The Provost News? Click here.
More pictures, stories can be found in the print edition of The Provost News, October 26, 2016 including:
• 113 Players Join Minor Hockey
• Employment/Careers
• New Transmission Line Between Provost and Edgerton Promoted

• M.D. Road Upgrade May be Done This Week
• Light Agendas for M.D. 52 Meetings
• Women's Western Discing Hosted in Cadogan for 30th Anniversary
• MLA Calls For Red Tape Reduction For Business

Get details of these and other stories by subscribing to The Provost News Click here or call 1-780-753-2564.