Smooth Blacktop For Main Street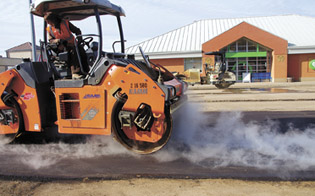 A paving crew got to work on Main Street, finally getting a layer of blacktop down late Thursday morning, October 13. But the next day brought rain—and like farmers leaving their combines the workers could do little but wait. This photo shows one of the heavy packers on the south end of Main Street following a summer of digging and street closures due to infrastructure upgrading. ©Provost News Photos.

See inside the print edition of The Provost News, October 19.
Want to Subscribe to The Provost News? Click here.
More pictures, stories can be found in the print edition of The Provost News, October 19, 2016 including:
• Anxiety a Symptom of 'Something that Needs Attention' Says Visiting Psychologist
• Employment/Careers
• Wet Weather Stalling Harvest Operations

• Police Can't Be Everywhere, Says Letter Writer
• Some Paving Done, But. Weather Interferes
• 4-H Donates Cash
• Military Holding Part of Exercise in Provost

Get details of these and other stories by subscribing to The Provost News Click here or call 1-780-753-2564.