Enjoying A Vegetarian Lunch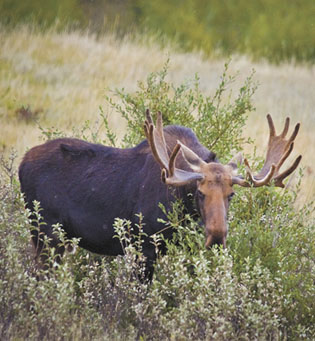 This majestic animal was spotted south of Provost by Cathy Bogen © who had her camera with her. The moose was contentedly munching on brush during the summer. The animals prefer muskegs, brushy meadows, small groves of aspen or coniferous trees, especially if near or adjoining water like lakes, ponds or streams. As largest members of the deer family in the world, bulls can weigh in at over 450 kilograms (1,000 pounds) and stand 2.3 metres (7.5 feet) at the shoulder. Cows average about 350 kilograms (770 pounds).

See inside the print edition of The Provost News, October 12.
Want to Subscribe to The Provost News? Click here.
• Mayor Knox Honoured at Province-wide Convention With Distinguished Service Award
• Employment/Careers
• Fire Prevention Week Marked

• School Enrollment in Area Declines by 45 Students
• Provost Library Hosts Alberta Author
• Seim First Again — With 593 Pound Pumpkin Entry at Festival
• Oilfield Tubing Stolen

Get details of these and other stories by subscribing to The Provost News Click here or call 1-780-753-2564.