1,900 New Wells in Alberta in 2017—Forecast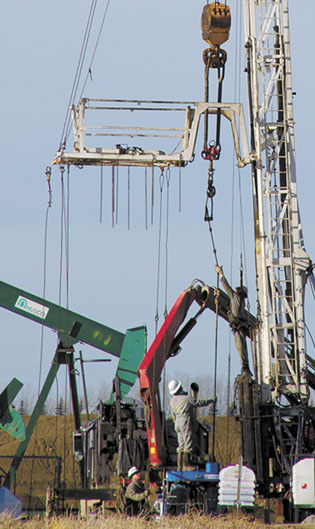 An oilfield maintenance worker wearing a safety harness stretches to reach a cable during operations only a half kilometre north of Provost on Saturday, November 5. The Surge Energy Inc. site is just one among hundreds of operations producing crude oil in the Provost area. Below the worker are two more men also working on the project. An estimated 1,900 wells are forecast to be drilled in Alberta during 2017. ©Provost News Photo.

See inside the print edition of The Provost News, November 9.
Want to Subscribe to The Provost News? Click here.
More pictures, stories can be found in the print edition of The Provost News, November 9, 2016 including:
• Two Earn Lifetime Awards for Dedication in Kinsmen Club
• Employment/Careers
• Expected Toughest Part of Winter From Late January to March, Says Climatologist

• Slight Increase in Drilling Forecast for Alberta, Sask.
• Medals for Taekwondo Students
• Three Volleyball Teams Advance
• New Police Officer on Job Here

Get details of these and other stories by subscribing to The Provost News Click here or call 1-780-753-2564.