At The Livestock Exchange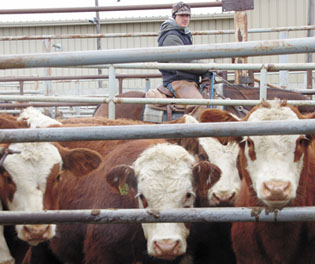 Cattlemen were buying and selling animals at Provost Livestock Exchange on Friday, October 28. Story on cattle prices in the print edition.
©Provost News Photo.

See inside the print edition of The Provost News, October 26.
Want to Subscribe to The Provost News? Click here.
More pictures, stories can be found in the print edition of The Provost News, November 2, 2016 including:
• Beef Prices Fall, But 'High Volatility' Means Fortunes Can be Made or Lost—Cattleman
• Employment/Careers
• Former Provost Woman Part of Operatic Performance Here

• STA Girls First in Volleyball League
• Hughenden Jets Hockey Club Beats Provost Combines
• Artist Jill Sherring Teaches Class With Fast-Drying Acrylic Paints and Tools Such As Painter Knives, Rollers, Sponges, Squeegees and Paintbrushes
• Police Investigate Hit and Runs and Thefts

Get details of these and other stories by subscribing to The Provost News Click here or call 1-780-753-2564.