Albertans Helping Albertans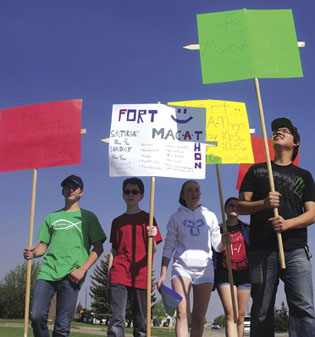 People in Provost hold signs asking for support for those devastated by the recent wildfires at Fort McMurray. The youth members from Freedom Student Ministries of Provost Community Church were walking to help raise awareness of the need for donations for fire evacuees. The event they call Fort Mac-A-Thon was organized so that a variety of items could be dropped off at the church over the weekend. Pictured from left: Micah Schindel, Rogan Coffey, Marlee Kohlman, Tessa Lester and Rayden Ahearn. See story in the print edition. ©Provost News Photo.

See inside the print edition of The Provost News, May 11.
Want to Subscribe to The Provost News? Click here.
More pictures, stories can be found in the print edition of The Provost News, May 11, 2016 including:
• Former Resident Among 80,000 Others Who Escaped Wildfire
• Employment/Careers
• Students Finish Babysitting Course
• People Donate to Wildfire Evacuees of Fort McMurray . . . Over 12,000 Items Brought In
• Farm Operators Planting for Firemen's Charity
• 277 Children Take in Family Literacy Event

Get details of these and other stories by subscribing to The Provost News Click here or call 1-780-753-2564.