The Warm Milk is Fresh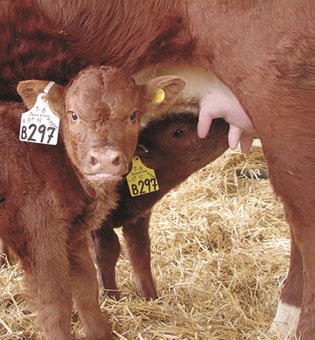 One of two twin calves stops to pose for the camera while the other continues with lunch at the Keith and Dallas Johnston ranch 10 kilometres southeast of Hayter and one mile west of the Alberta-Saskatchewan border. This pair, a day and a half old when the picture was taken in early March were among 18 sets of twins and approximately 240 newborns already appearing at the ranch with up to 100 more births expected. Keith Johnston says the biggest concern for ranchers are usually disease and cold weather though those worries have been avoided so far. Because births happen around the clock, Johnston begins his chores at 2 a.m. and will work for 16 to 18 hours including tagging and checking on cows and generally watching for problems. ©Provost News Photo.
See inside the print edition of The Provost News, March 9.
Want to Subscribe to The Provost News? Click here.
More pictures, stories can be found in the print edition of The Provost News, March 9, 2016 including:
• Hughenden Knocks Provost Out of Senior Hockey Playoffs
• Employment/Careers
• Chronic Wasting Disease Spreads—Biologist
• Bowlers Advance to Provincial Finals
• Agriculture Week Being Observed
• Threats to Teens, Possession of Controlled Substance Lead to Charges
• RCMP Investigate Theft of Copper Wire, Other Damages in Town

Get details of these and other stories by subscribing to The Provost News Click here or call 1-780-753-2564.