Co-ordinating Concentration and Dexterity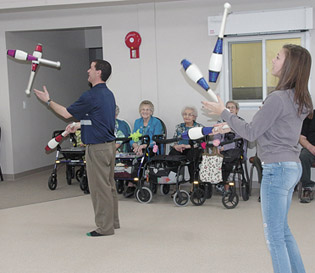 Dave Stang, left is accompanied by Grade 8 student juggler Alysa Bolz who also handles pins while Hillcrest Lodge residents in Provost enjoy the show. Stang, who has taught juggling to students over the past decade at St. Thomas Aquinas School says there are approximately 60 students from Grades 7 to 12 who have recently taken his volunteer practices during noon hours. He learned the skill while attending Grade 12 during boarding school at Outlook, Sask. Other students (not shown) also participated in the half hour variety of juggling entertainment. ©Provost News Photo.
See inside the print edition of The Provost News, March 30.
Want to Subscribe to The Provost News? Click here.
More pictures, stories can be found in the print edition of The Provost News, March 30, 2016 including:
• Proposed New Medical Building Awaiting Provincial OK to Use Hospital Land 'They do not want to give this permission'
• Employment/Careers
• Provost Blades Atoms Hockey Team Wins Silver at Provincial Finals
• Default of Lease Payments on Rise, Says Surface Rights President
• Schools Raise $10,000 for Gr. 1 Boy
• MLA Says Alberta's NDP Carbon Tax Will be Hard on Economy
• Town Considers Playground for New S.E. Area

Get details of these and other stories by subscribing to The Provost News Click here or call 1-780-753-2564.