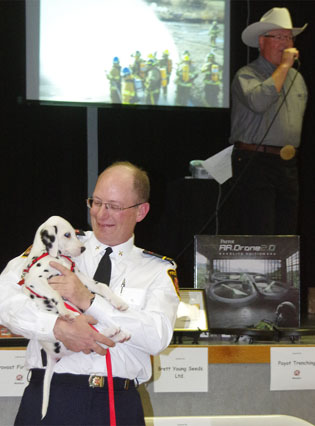 Provost Fire Department member Hugh Baier holds up a nine-week old Dalmation puppy named Sparky while Jerry Hewson (back right) does his work auctioneering the animal. The pup sold for $1,625 to an anonymous buyer at the annual Fireman's Ball on February 27. ©Provost News Photo.
See inside the print edition of The Provost News, March 2.
Want to Subscribe to The Provost News? Click here.
More pictures, stories can be found in the print edition of The Provost News, March 2, 2016 including:
• 32 Cabins Broken Into at Shorncliffe Lake
• Employment/Careers
• Fireman's Ball 'A Success As Usual' —Fire Chief
• Government Has Shown 'Little to No Desire to Consult With Actual Farmers' On Bill 6—MLA
• Oilfield Hockey Team Donates to Food Bank
• 'Shortage of Water Worldwide' Says John Kloberdanz, President of The Prairie Association for Water Management
• Find a Mentor, Be an Example for Others, Says Speaker

Get details of these and other stories by subscribing to The Provost News Click here or call 1-780-753-2564.