Chiller Unit to be Replaced at Agriplex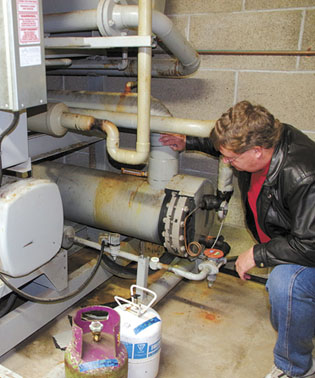 Vice-president of the Provost and District Agricultural Society, Jim Schon has his hand on the chiller unit that recently failed in the mechanical room of the Agriplex. A supper with comedian will be staged this weekend to help raise money for equipment replacement. Story in the March 16 print edition. ©Provost News Photo.
See inside the print edition of The Provost News, March 16.
Want to Subscribe to The Provost News? Click here.
More pictures, stories can be found in the print edition of The Provost News, March 16, 2016 including:
• Town, Ag. Society Takes Closer Look at Generating Electricity, Heat
• Employment/Careers
• Sleep Expert Talks About Time Change
• Plans to Replace Agriplex Ice Equipment
• Crestwood Place Receives New Roofing
• Hughenden Jets Tie Sr. Hockey Playoff Series
• Lee Robley Marks 30 Years of Service as Fish and Wildlife Conservation Officer

Get details of these and other stories by subscribing to The Provost News Click here or call 1-780-753-2564.