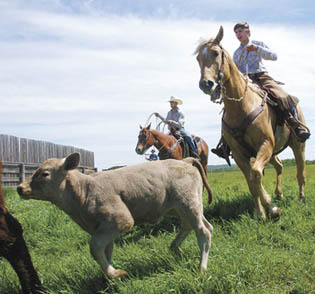 Branding was held at the Kevin and Wendy West and Ron and Isabelle and Bill West ranch operation on Wednesday, June 1. An estimated 200 calves were branded that day while 100 were done earlier this spring at the ranch just south of Capt. Ayre Lake (38 kilometres southwest of Provost). More photos, information in the June 8 print edition ©Provost News Photo.

See inside the print edition of The Provost News, June 8.
Want to Subscribe to The Provost News? Click here.
More pictures, stories can be found in the print edition of The Provost News, June 8, 2016 including:
• Excellence in Teaching Award Presented to Stacy Brouwer
• Employment/Careers
• Provost Public School Students Honoured at Graduation
• Girl Has Top 4-H Animal
• Truck Hits Store, Breaks Window
• Flowers Are Planted by Communities in Bloom

Get details of these and other stories by subscribing to The Provost News Click here or call 1-780-753-2564.