Sizzling Photo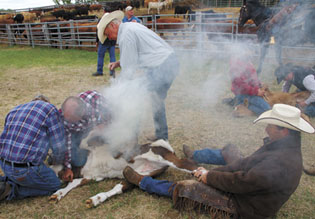 Another calf received a brand owned by rancher Bryon Mailer shown in action on Saturday, May 30 (2015) as neighbours helped out. This photo won a 2016 national award at the Canadian Community Newspapers Association recent competitions. Story in the print edition. Other PN awards at:
http://provostnews.ca/thenews/awards/awards.html
©Provost News Photo.

See inside the print edition of The Provost News, June 29.
Want to Subscribe to The Provost News? Click here.
More pictures, stories can be found in the print edition of The Provost News, June 29, 2016 including:
• M.D. Tours Hillcrest Lodge After Upgrades Complete
• Employment/Careers
• Provost Piranhas Swim Club hosts annual meet on Saturday, June 25
• More Pipelines Needed—Industry
• School's Out For Students in Area
• Provost News Photo Winner in National Newspaper Competition

Get details of these and other stories by subscribing to The Provost News Click here or call 1-780-753-2564.