Man Protests Alberta Carbon Tax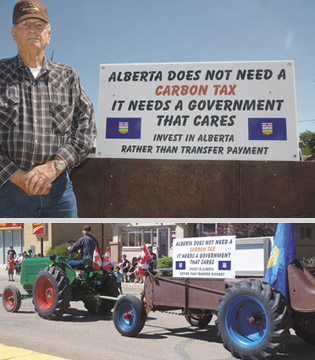 Altario farmer Don Clark (top) stands beside a sign he had made which he loaded into a manure spreader and pulled with a tractor in this year's annual parade (see other photo) in Provost on Saturday, June 18. He stated in a brief interview after the parade that the "carbon tax is going to break a lot of companies." Clark has been farming all of his life. ©Provost News Photos.

See inside the print edition of The Provost News, June 22.
Want to Subscribe to The Provost News? Click here.
More pictures, stories can be found in the print edition of The Provost News, June 22, 2016 including:
• Fewer Lightning Strikes in Provost Area Recorded
• Employment/Careers
• Abducted Woman Escapes Man With Gun at Czar
• Local Protestor Says Alberta Doesn't Need Carbon Tax
• Tractors Pull Heavy Weight
• Army Has Display During Visit to Provost Museum

Get details of these and other stories by subscribing to The Provost News Click here or call 1-780-753-2564.