Plugged In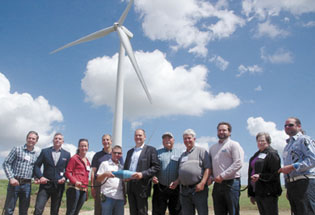 There was a symbolic connection of new electricity being added to Alberta's power grid as a giant 'electrical plug' was joined together while others held the cord at the new BluEarth Renewables Inc.'s Bull Creek wind farm northeast of Provost. There are 17 turbines nearby that have been creating electricity for sale to school boards across the province. From left on Thursday, June 9: Jared Sproule (community liaison for BluEarth), Gareth McDonald (lead development, BluEarth), Kelly Matheson-King (BluEarth's chief operating officer), François Gagnon (associate superintendent of Fort McMurray Catholic Board of Education and chair of the Alberta Schools Commodity Purchasing Consortium), landowner Graham Hager holding the symbolic plug along with BluEarth's president and chief executive officer Grant Arnold, landowners David Blume and David Levitt, Tyler Jans (director of development, BluEarth) Cathy Hager-Lawrence (landowner) and Geoff Carnegie (executive V.P. of development and construction). Story in this paper. ©Provost News Photo.

See inside the print edition of The Provost News, June 15.
Want to Subscribe to The Provost News? Click here.
More pictures, stories can be found in the print edition of The Provost News, June 15, 2016 including:
• BluEarth, Others Celebrate Commissioning of 17 Turbine Bull Creek Wind Facility
• Employment/Careers
• Boy with Rare Cancer Home After Special Treatment in Florida
• Seniors' Fair is Held
• 9 Skunks Found in Town
• Retired Man Takes 5th Trip Down Highway to Raise Money for Others

Get details of these and other stories by subscribing to The Provost News Click here or call 1-780-753-2564.