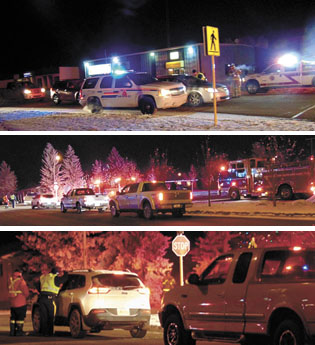 These three pictures showed part of a checkstop in Provost just before Christmas. The photos were taken by Sherri Elder on behalf of Mothers Against Drunk Driving (MADD). Story in the print edition.
See inside the print edition of The Provost News, January 6.
Want to Subscribe to The Provost News? Click here.
More pictures, stories can be found in the print edition of The Provost News, January 6, 2016 including:
• Summary of Births, Deaths and Marriages.
For the 85th consecutive year, The Provost News has compiled a summary of vital statistics of births, deaths, marriages and anniversaries as recorded in its just-completed year.

• Lucie Trutnau talks about manners.
• Employment/Careers
• Enbridge's Hardisty to Superior Line 3 Replacement Discussed in Minnesota
• CP Holiday Train Raises Over $1.4 Million For Food Banks, and 300,000 Pounds of Food in 17th Year of Operation
• No Charges as 112 Drivers Stopped During Blitz
• Ambulance Service Being Compromised, Opposition Claims

Get details of these and other stories by subscribing to The Provost News Click here or call 1-780-753-2564.