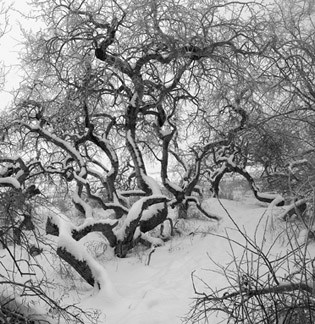 Like a pen and ink illustration by Philipp Grot Johann that belongs in the Brothers Grimm Fairy Tales book of 1812 this remote setting looks like it just might produce some sort of wild animal or mythical creature. But all that materialized was that of bitter cold—other than the unusual scene of grotesquely twisted and gnarled tree branches in a single bluff called Crooked Bush on the Prairie landscape. This photograph was taken on private land 20 kilometres northwest of Hafford, Sask. where many such aspen trees are thriving—while other trees at nearby bluffs are normal. (For a view of the strange phenomenom when leaves are covering the branches, see PN Oct. 23, 2013). The strange growth of hundreds of branches may be rooted in genetics, possibly caused by a mutation. ©Provost News Photo.
See inside the print edition of The Provost News, February 24.
Want to Subscribe to The Provost News? Click here.
More pictures, stories can be found in the print edition of The Provost News, February 24, 2016 including:
• New Chairman of Eastern Alberta Trade Corridor
• Employment/Careers
• Council Has Variety of MD Business at Meetings
• Provost Woman Competing in World Beauty Contest
• Artwork Shows Main Street Proposals
• SAIT Win Has Local Connection
• RCMP Lay Charge in Residential Break and Enter

Get details of these and other stories by subscribing to The Provost News Click here or call 1-780-753-2564.