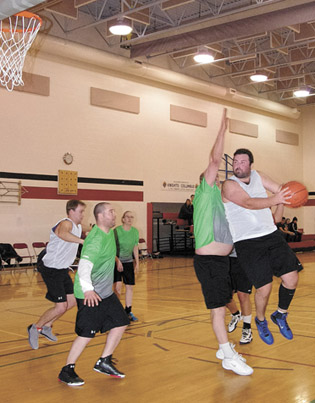 A drive to the net is attempted by an Alberta-Saskatchewan basketball player while the team Misfits—who had some Provost players (green jerseys), defend their net in the STA gymnasium February 12. This depicts one of several games played over the weekend as part of a 10 team adult basketball tournament. Games were also held at PPS. Story in the print edition. ©Provost News Photo.
See inside the print edition of The Provost News, February 17.
Want to Subscribe to The Provost News? Click here.
More pictures, stories can be found in the print edition of The Provost News, February 17, 2016 including:

• 10.1 Million Barrels of Crude Oil Pumped From Provost Field in Year
• Employment/Careers
• Playoff Action Next for Sr. Hockey Teams
• Scouts Try Ice Fishing at Dilberry Lake
• M.P. Sorenson Elected to Chair Public Accounts Committee
• 10 Teams Compete in Annual Adult Basketball Tournament
• 58 Percent of Births Were Boys, 42 Percent Girls at Hospital in Year

Get details of these and other stories by subscribing to The Provost News Click here or call 1-780-753-2564.