Outdoor Adventure a Blast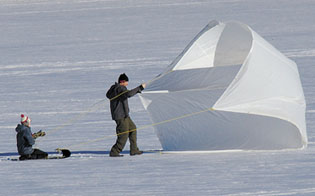 Danae Putz was temporarily stopped while dad Colin was helping out with a homemade wind sail, made from reconditioned sandblasting bags that had been powering her toboggan thanks to a breeze blowing across the snow and ice. This was part of the Prairie winter experience south of town on Sunday afternoon, February 7, 2016. ©Provost News Photo.
See inside the print edition of The Provost News, February 10.
Want to Subscribe to The Provost News? Click here.
More pictures, stories can be found in the print edition of The Provost News, February 10, 2016 including:
• Farm Delegates Talk Changes at Alberta Federation of Agriculture Sessions

• Main Street Property Owners Get More Information About Proposed Changes to Infrastructure
• Employment/Careers
• Oil by Rail Expansion Proposal Withdrawn
• Fish & Game Present Annual Awards
• Hundreds of Abandoned Wells in M.D. Provost Over Years
• Czar Lodge Donates to Provost Handi-van

Get details of these and other stories by subscribing to The Provost News Click here or call 1-780-753-2564.