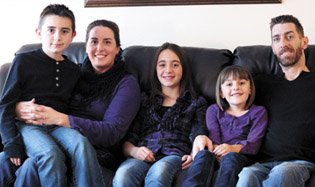 The Snow family who live northeast of Provost: (from left) Ethan, Melissa, Katie, Norah and Sam are looking for financial support. Story in the print edition.

See inside the print edition of The Provost News, December 7.
Want to Subscribe to The Provost News? Click here.
More pictures, stories can be found in the print edition of The Provost News, Dec. 7, 2016 including:
• Fight With Cancer Pushing Local Family Into 'Incredible Financial Debt'
• Unique Bitumen Processing Plant NE of Provost Upgrades Technology
• Hughenden Jets Leading East Central Senior Hockey League
• Employment/Careers
• Volunteers Gather Food, Money with Drive Through Provost

• Amisk 4-H Club Begins Work on New Projects
• OK for Enbridge Replacement Pipeline . . . to Run Just South of Town.

Get details of these and other stories by subscribing to The Provost News Click here or call 1-780-753-2564.