Honey Harvest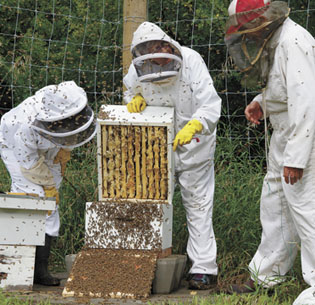 It was honey harvest time for one of the local beekeepers, Ruth Holmes (left) who called on veterans Lorraine Rutledge (centre) of Wainwright and Willy Kelch who lives northeast of Czar who had made several stops to the acreage before this event over the summer. Holmes, along with husband Rich started their first season on May 5 with a purchase of 10,000 bees and one queen—which mushroomed to an estimated 45,000 to 55,000 bees when the fresh honey was extracted on August 17 a few miles east of Provost. Though the bees generally have a lifespan of less than one month, the queen lives up to two years and produces on average 1,500 eggs per day. The bees were raised as an experiment to see if local garden produce is affected. The garden, using nearly an acre, produced the most prolific vegetables since it's been attended to over the last 36 years. ©Provost News Photo.

See inside the print edition of The Provost News, August 24.
Want to Subscribe to The Provost News? Click here.
More pictures, stories can be found in the print edition of The Provost News, August 24, 2016 including:
• Piranhas Swimmer Earns Gold at Provincial Championships
• Employment/Careers
• M.D. 52 Council Amends Bylaw, Rezones Land
• 1954 Car Triumphant After it's Re-built . . . Visits Here
• Birds & Bees Help Garden Grow
• New Parking Lot Under Construction at Provost Fire Department

Get details of these and other stories by subscribing to The Provost News Click here or call 1-780-753-2564.