Made It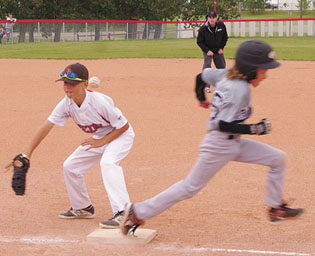 The Strathmore Reds' throw to first base is dropped so Provost runner Ethan Joy was ruled safe during provincial action in Provost on Sunday, August 7. Provost went on to win this game 10-0 and played a second game later the same day, earning a provincial silver medal in the weekend Mosquito Boys baseball AA Tier II competition. Story in the print edition. ©Provost News Photo.

See inside the print edition of The Provost News, August 10.
Want to Subscribe to The Provost News? Click here.
More pictures, stories can be found in the print edition of The Provost News, August 10, 2016 including:
• Provost Shooters Earn Silver at Provincial Finals Hosted in Town
• Employment/Careers
• Pastor Comments on Washroom Controversy in Alberta
• Historic Building Has New Shingles
• Provost Padres Men's Baseball Team Wins League Championship
• 'Climate Change Town Halls Drowning in Meaningless Rhetoric'—Comment

Get details of these and other stories by subscribing to The Provost News Click here or call 1-780-753-2564.