4-H Students take in Miniature Horse
Driving Project Near Macklin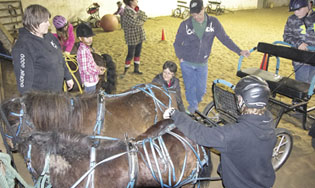 Clinician Patty Kramps of Pickardville, Alta. (kneeling at centre) explains to 4-H members how to hook up miniature horse teams for driving carriages. The clinic held east of Macklin was organized by Debbie Ganser (at left) of the Senlac 4-H Multiple Club. Senlac 4-H members and members from Edgerton who are part of 3 Cities 4-H Multi Clubout of Paradise Valley took in the course. Ganser told The Provost News that people learn the skill for "pleasure driving or you can go into competition. ©Provost News Photo.
See inside the print edition of The Provost News, April 6.
Want to Subscribe to The Provost News? Click here.
More pictures, stories can be found in the print edition of The Provost News, April 6, 2016 including:
• MD Truck Stolen
• Employment/Careers
• Provost Dancer Earns Multiple Awards
• Warmer Than Average Summer Expected Here Says Forecaster
• Twin Butte Has High Oil Production at Provost
• Hillcrest Lodge Renovation Project Nears Completion
• Gymnast Qualifies for Provincial Finals

Get details of these and other stories by subscribing to The Provost News Click here or call 1-780-753-2564.