Building the Energy Industry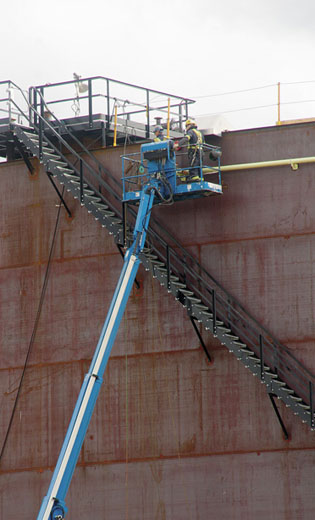 Two men work high outside a giant crude oil storage tank being constructed by Gibson Energy at an industrial complex southeast of Hardisty. This one and other new steel tanks being built by Gibson and other energy companies like TransCanada Corp. will add to storage capabilities along with dozens of others that are already in operation nearby. Some of the tanks hold between 300,000 barrels and 500,000 barrels of oil and use floating pontoon roofs that minimize oil vapour emissions. Most of the stored oil will be shipped to market by pipeline, however some product will be loaded onto unit trains at a facility a few miles to the east. More photos in the print edition. ©Provost News Photo.
See inside the print edition of The Provost News, April 20.
Want to Subscribe to The Provost News? Click here.
More pictures, stories can be found in the print edition of The Provost News, April 20, 2016 including:
• Fires on Same Morning 'Suspicious' Says Fire Chief Barry Johnstone.
• Employment/Careers
• Gibson Energy, Others Continue With Large Crude Oil Tank Construction
• A two page newspaper spread shows photos and information about the massive crude oil tank farm S.E. of Hardisty, from Enbridge, Gibson Energy, Flint Hills Resources, TransCanada Corporation, Husky Energy, Inter Pipeline, Spectra Energy, Canadian Natural Resources Ltd. and USD Terminals, Canada.
• President and chief executive officer of ATB Financial, Dave Mowat, interviewed by The Provost News says Alberta should be 'Very Proud of Ethical Oil and Gas Industry.'
• Construction Plans Are Discussed for Replacing Downtown Infrastructure.

Get details of these and other stories by subscribing to The Provost News Click here or call 1-780-753-2564.