Totally Rare Alignment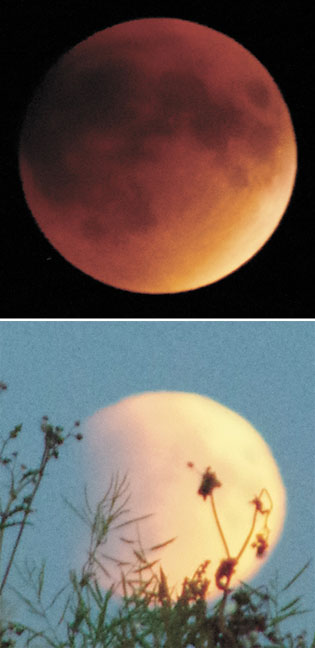 A total lunar eclipse was observed at locations around the world on Sunday evening (Sept. 27) including here in the eastern sky. Top photo shows the moon shortly after the Earth's shadow had completely covered it—producing a deep red hue that some call a blood moon because of sunlight that is filtered and bent by Earth's atmosphere that landed on the Moon's surface. This was the first time in 30 years that such an eclipse took place when a full moon was closest to Earth (226,000 miles or 363,000 kilometres) so that it shows brighter and larger than normal. This phenomenon was last observed in 1982 and will not be back before 2033. Other photo shows the Moon as it suddenly arises from the horizon with part of the Earth's shadow (umbra) already covering part of it. ©Provost News Photos.
See inside the print edition of The Provost News, September 30.
Want to Subscribe to The Provost News? Click here.
More pictures, stories can be found in the print edition of The Provost News, September 30, 2015 including:
• Over 500 Birds Banded in 'Productive' Year on Johnson Bluebird Trail
• Paralympic Snowboarder to Mentor Provost Students
• Employment/Careers
• Panthers Football Club Hosts Millwoods
• Drama Club Visits New Hope Gospel Church
• Buildings at Fairgrounds Are Damaged
• Airsoft Gun Used in Over $5,000 in Damages to Vehicle

Get more stories by subscribing to The Provost News? Click here.